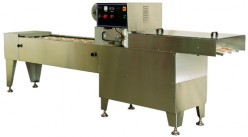 766 – Automatic Food Sealer
MODEL 766 – AUTOMATIC THERMO-WELDER BY FILM CUTTING AT RIGHT ANGLES
WHAT DOES IT MANUFACTURE?
The machine can thermo-weld appropriate portion of film over tubs containing convenience and pre-cooked food (solid, liquid, creamy, pasty), generic foodstuff and non-food items too.
By virtue of the device for cutting film at right angles, the end product shows a small portion of film scrap along the whole perimeter of the tub. This scrap will allow the end-user to remove the film easily from whatever side of the tub.
PERFORMANCE
From 16 to 17 tubs/minute by Single Format
33 tubs/minute by Double Format
These are indicative figures as the actual performance reies on the tub material, dimensions, type of content (solid, liquid, creamy, pasty), the compatibility to thermo-welding power between film and container materials…
WELDING –COMPATIBLE RAW MATERIALS EMPLOYED
Tubs up to max. dimensions mm 325 x 265 [GN ½] made of :
PP Polypropylene) translucent and non-translucent
PET Polyethylene Terephthalate
CPET Crystalline polyethylene terephthalate
APET Amorphous polyethylene terephthalate
PS Polystyrene
PET Polyethylene or polythene
PVC Polyvinylchloride
Cardboard Laminated with PP or Other Plastic Materials
Aluminium
Monolacquered or Bilacquered Aluminium
Aluminium Laminated with PP
Aluminium Suitable for Sterilization Processes
Films:
Laminated / Lacquered
Aluminium / Metallized
Anti-fog / Multilayer
Barrier / Peelable
Papers / Printed
Coextruded / Sterilizable
CONNECTED UNITS
Food dosage systems
OPTIONS
Customizations
3-track, 4-track etc.. possible format changeover
Automatic feeding screw un-stacker for tubs
2000-hour parts service pack
MAIN COMPONENTS EMPLOYED
BONFIGLIOLI
ELESA
INA
SANYO
SCHNEIDER
SKF
SPECIFIC FEATURES
This is a high-quality Strema product. The machine can always guarantee a first-class end-product thanks to the refined components in contact with the raw materials employed.
FLEXIBILITY
The machine is considerably flexible and able to thermos-seal different types of tubs by simple replacement of an equipment. The replacement time is very short and does not invalidate the usual daily production process.