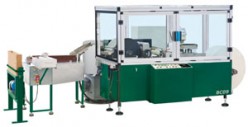 BC09 – Paper Sticks Manufacturing Machine
BC09 IS A PAPER STICKS MANUFACTURING MACHINE
WHAT DOES IT MANUFACTURE ?
Tha machine can automatically manufacture paper sticks by different diameters and lengths. It can also pack the paper sticks in carton boxes in semi-automatic condition. The product can be used in the following businesses:
adult's personal hygiene
adult's personal hygiene by restrained production cost
baby's personal hygiene (safety)
make-up cosmetics
medical ( i. e. : microbiological applicators )
cleanliness of electronic devices
foodstuff (different types of lollipops, candy floss, ice-creams, ice lollies etc.)
disposable items for celebrations, birthday parties ( small flags, windmills etc. ) and more …
PERFORMANCE
These are indicative figures as the actual performance relies on the stick sizes, the quality and features of the raw material employed …
RAW MATERIALS EMPLOYED
Paper
Water
Carton boxes
No adhesive solution is required
POSSIBLE CONNECTED UNITS
RC-01 for the automatic packing in carton boxes
OPTIONS
Customizations
2000-hour parts service pack
Formats ( kit conversion units )
MAIN COMPONENTS EMPLOYED
ATOS
BONFIGLIOLI
BST ELETROMAT
ELESA
OLI
SCHNEIDER
SKF
SPECIFIC FEATURES
This is a high-quality Strema product. The machine can always guarantee a first-class end-product thanks to the refined components in contact with the raw materials employed.
FLEXIBILITY
The machine is considerably flexible and able to manufacture different types of items by simple replacement of an equipment. The replacement time is very short and does not invalidate the usual daily production process.