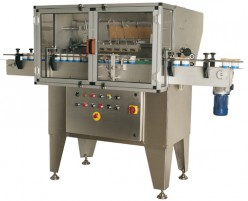 AV10000 – Automatic Stapler
MODEL AV10000 – MULTI-PACK MACHINE FOR COUPLING FOOD JARS
WHAT DOES IT MANUFACTURE ?
Full automatic machine for joining two jars containing yogurth, dessert or other food type by pre-punched carton sheet. The operator just have to feed the magazine of carton sheets.
PERFORMANCE
Up to 80 packaging/minute
These are indicative figures as the actual performance relies on the jar sizes, the quality and features of the raw material employed …
RAW MATERIALS EMPLOYED
jars containing yogurth, dessert o other food type
pre-punched carton sheet
POSSIBLE UNITS CONNECTED
Machinery for processing and packaging yogurth, desserts or similar in jars.
OPTIONS
Customizations
Format changeover
2000-hour parts service pack
Ink-jet printer
MAIN COMPONENTS EMPLOYED
BONFIGLIOLI
COLOMBO & FILIPPETTI
FESTO
HITACHI
SCHNEIDER
SKF
SPECIFIC FEATURES
This is a high-quality Strema product. The machine can always guarantee a first-class end-product thanks to the refined components in contact with the raw materials employed.
FLEXIBILITY
The machine is considerably flexible and able to manufacture different types of jars by simple replacement of an equipment. The replacement time is very short and does not invalidate the usual daily production process.