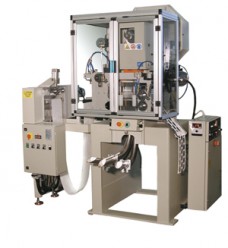 DC96- Pads Manufacturing Machine
MODEL DC96 IS A PADS MANUFACTURING MACHINE WITH PRE-PACKAGING UNIT
WHAT DOES IT MANUFACTURE ?
Production and stacking of
demake-up cosmetic round pads
cosmetic, hygienic or medical oval pads
cosmetic, hygienic or medical square pads
cosmetic, hygienic or medical rectangular pads
PERFORMANCE
The maximum capacity is 1080 cosmetic round pads per minute
These are indicative figures as the actual performance relies on the quality of the raw materials and the cotton pad type and sizes …
RAW MATERIALS EMPLOYED
100% cotton
100% synthetic fibres
mixed fibres
PACKAGING UNITS CONNECTED
ID4 – full automatic packaging unit for cosmetic round pads and pads in different shapes in polyethylene bags
Seal Box 280 – full automatic packaging unit for moistening and packaging cosmetic round pads in sealed cylindrical containers fastened by screw or snap-fit cap.
OPTIONS
Customizations
Built-in "Black Light" unit in case of using sensitive products to this unit
Die-cut for manufacturing stitched edge pads
Die-cut for manufacturing needle-punched edge pads
Decorating rollers for one-side or two-side embossing of the pad's surface
Specific tailoring for connecting the machine to Seal Box 280 unit
Filling jars unit, model JF
Equipment for direct feeding from the carding machine
2000-hour parts service pack
MAIN COMPONENTS EMPLOYED
BÖHLER
BONFIGLIOLI
CGE
SCHNEIDER
SIEMENS
SKF
SMC
SPECIFIC FEATURES
The machine can always guarantee a high-quality stable end-product.
FLEXIBILITY
The machine is considerably flexible and able to manufacture pads in different shapes by simple replacement of the die-cut and the packaging chutes. The replacement time is very short and does not invalidate the usual daily production process.