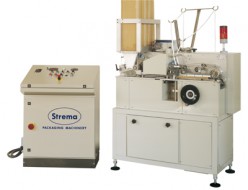 CF2 – Cotton Swabs Manufacturing Machine
CF2 IS COTTON SWABS MANUFACTURING MACHINE
WHAT DOES IT MANUFACTURE ?
adult hygienic ear-cleaning cotton swabs
baby hygienic ear-cleaning cotton swabs (safety type)
cosmetic swabs for make-up removal
medical applicators (i. e. : microbiological swabs)
healthcare check medical applicators (by aluminium stick)
swabs for cleaning electronic devices.
other industrial type…..
PERFORMANCE
From 200 to 3000 pieces/minute
RAW MATERIALS EMPLOYED
100% natural fibers, cotton, rayon or alginate
100% synthetic fibers (i.e. dacron)
Mixed fibers (natural and/or synthetic)
Polypropylene, polystyrene, paper, wooden, bamboo aluminium sticks
Glues
Fixing solutions (binders)
PACKAGING UNITS CONNECTED
BU04
OPTIONS
Customizations
Tip fusing unit for polypropylene sticks
Tip gluing unit for paper, polystyrene and wooden sticks
Timed flapping device for the stick feeder's sides
Quality control : Detecting and ejecting device of each single defective swab
2000-hour parts service pack
MAIN COMPONENTS EMPLOYED
BONFIGLIOLI
BOSCH
CGE
HITACHI
INA
RENOLD
SCHNEIDER ELECTRIC
SIEMENS
SKF
SPECIFIC FEATURES
HIGH-QUALITY STABLE END-PRODUCT
The machine can always guarantee a high-quality end-product also by the use of efficient quality control devices.
The machine is considerably flexible and able to manufacture different types of items by simple replacement of an equipment. The replacement time is very short and does not invalidate the usual daily production process.
SEIZING POWER BETWEEN COTTON AND STICK
More than 30 N.
STICKS IN DIFFERENT COLOURS
Model CF2 can mix polipropylene, paper, polystyrene and wooden sitcks by different colour.