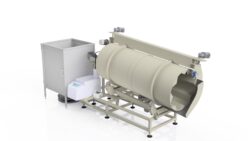 CM22 – Machine For Applying A Surface Coating To Paper Sticks
CM22 MODEL
WHAT DOES IT MAKE
Machine for applying a surface coating to paper sticks produced by the BC09 and BC10 models.
PRODUCTION CAPACITY
3000 pieces/minute
These data are indicative as the actual performance depends on the size of the sticks, their quality, the characteristics of the raw materials, etc.
RAW MATERIALS USED
Natural or chemical waxes, paraffins or related products.
POSSIBLE CONNECTED UNITS
Machines for the production of paper sticks, BC09 or BC10 models.
OPTIONS
Set of spare parts 2000 hours of operation
Customised solutions for applying substances other than waxes in collaboration with our technical team
Excess wax removal system
COMPONENTS USED
BONFIGLIOLI
ELESA
SCHNEIDER
ROBATECH
SKF
SPECIFIC FEATURES
A high-quality product every time. Thanks to the precision of the parts in contact with the product, the machine guarantees a high-quality end product.