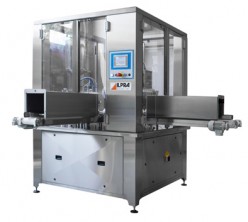 Seal Box 280 – Packaging System
LIQUIDS DOSAGE, SEALING AND PACKAGING SYSTEM IN CYLINDIRCAL CONTAINERS
WHAT DOES IT MANUFACTURE ?
Cosmetic wet pads full automatic packaging in plastic cylindrical boxes, the pads being wet by demake-up solutions
PERFORMANCE
The maximum mechanic capacity is from 1500 to 1700 cycles/hour
The actual performance relies on the specific features of the container, film or the sealed aluminium foil …
RAW MATERIALS EMPLOYED
film or aluminium foil
sealed plastic cylindrical containers fastened by screw or snap-fit cap
cleansing, de-makeup, disinfecting lotions
MANUFACTURING UNITS CONNECTED
DC96
OPTIONS
Customizations
Mechanic cap lifting system
2000-hour parts service pack
MAIN COMPONENTS EMPLOYED
AROL
BONFIGLIOLI
DANFOSS
SIEMENS
SMC
SKF
SPECIFIC FEATURES
The machine can always guarantee a high-quality stable end-product.
FLEXIBILITY
The machine is considerably flexible and able to manufacture pads in different shapes by simple replacement of the die-cut and the packaging chutes. The replacement time is very short and does not invalidate the usual daily production process.