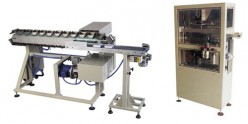 ZB40TW – Cotton Swabs Packaging Machine
ZB40TW IS A COTTON SWABS PACKAGING MACHINE IN SIMPLE SEALING, DRAWSTRING OR ZIPPER FOIL BAGS
WHAT DOES IT MANUFACTURE ?
Semi-automatic cotton swabs packaging machine in simple sealing, zip-lock or drawstring foil bags manually loaded. The machine is also fitted with lined up thermo-sealing unit
PERFORMANCE
The maximum capacity is about 40 foil bags per minute by using 3 operators performing hand labor
The machine can fill 20 bags/minute ( 100 pieces/each type )
The maximum capacity of models CF1 and CF3 lined up with ZB40TW is 2000 ÷ 2100 cotton swabs per minute
These are indicative figures as the actual performance relies on the quality of the raw materials,the sealing power of the bag material, cotton swab type and sizes, the number of cotton swabs per foil bag …
RAW MATERIALS EMPLOYED
Polyethylene zip-lock or simple sealing and drawstring foil bags
MANUFACTURING UNITS CONNECTED
OPTIONS
Special formats for single-layer foil bags
Hot cutting and impulse sealing unit for removing and ejecting the sealing waste
2000-hour parts service pack
Mirror machine for using one single operator monitoring 2 machines simultaneously
MAIN COMPONENTS EMPLOYED
BONFIGLIOLI
CGE
COLOMBO & FILIPPETTI
FESTO
SKF
SPECIFIC FEATURES
This is a high-quality Strema product. The machine can always guarantee a first-class end-product thanks to the refined components in contact with the raw materials employed.
FLEXIBILITY
The machine is considerably flexible and able to manufacture different types of items by simple replacement of an equipment. The replacement time is very short and does not invalidate the usual daily production process.